Cantilever rack used length: 4.000 mm

4 St. Kragarmregal-Ständer doppelseitig

Kragarmregal Höhe 4.160 mm x 1.200 mm
Year of construction
2021
Location
Johann-Flitsch-Straße 8, 83075 Bad Feilnbach, Deutschland
MACHINE DATA
Machine type:

Cantilever rack used length: 4.000 mm
Manufacturer:

4 St. Kragarmregal-Ständer doppelseitig
Model:

Kragarmregal Höhe 4.160 mm x 1.200 mm
Year of construction:

2021
Condition:

good condition (used)
PRICE & LOCATION
Price:

3,540 € ONO plus VAT
Location:

Johann-Flitsch-Straße 8, 83075 Bad Feilnbach, Deutschland
LISTING DETAILS
Listing ID:

A7086816
Update:

03.08.2022
DESCRIPTION
Cantilever rack double sided used: Hot galvanized screw system

Scope of delivery:
4 shelf uprights double sided height 4.160 mm with foot part 1.200 mm
24 cantilever arms with 1.200 mm depth, standard
6 longitudinal bracing for 1,300 mm center distance
2 diagonal braces for 1,300 mm center distance
Zirmu3xa
Incl. fastening material (without floor anchors)

(Offer would also be available in larger quantities: 20 uprights in stock)

Stable steel construction made of IPE profiles
Load capacity per upright side 2,250 kg
Load capacity per cantilever arm 750 kg
Cantilever arms height adjustable in 100 mm increments
6 screwable cantilever arms and 2 foot sections with depth 1,200 mm per upright, standard
= 4 storage levels on top of each other per upright side
Including longitudinal and diagonal bracing for rack length 4,000 mm
Including fixing material (without floor anchors)
With assembly instructions and load plates C4 according to DIN standard
Delivery time approx. 1 week, by arrangement

The advertisement was translated automatically. Translation errors are possible.
SELLER
Contact person: Herr Peter Singer
Johann-Flitsch-Straße 8
83075 Bad Feilnbach, Germany
Last online: Yesterday
Registered since: 2019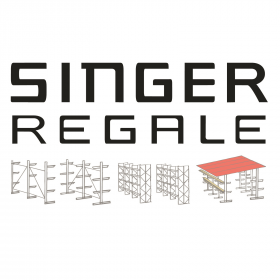 Singer Regale & Hallenbau GmbH & Co. KG wurde 1985 von Klaus Singer gegründet und machte sich zunächst im Hallenbau einen Namen. Seit 1996 liegt der Schwerpunkt auf Schwerlastregalen und Lagertechnik. Seit vielen Jahren zeigt das Team von Singer Regale, wie wichtig ein durchdachtes Lager für Unternehmen sein kann. Das stetig wachsende Team vereint die praktische Erfahrung mit moderner Technik.
Heute versorgt das Unternehmen Singer Regale viele Kunden aus Deutschland, Österreich und der Schweiz mit sinnvoll geplanten Systemen aus den Bereichen Schwerlastregale und Regalhallen.
Weitere rechtliche Angaben
Singer Regale & Hallenbau GmbH & Co. KG
Johann-Flitsch-Straße 8
83075 Bad Feilnbach
Deutschland

Registergericht: Amtsgericht Traunstein
Registernummer: HRA 6397

Die Singer Regale & Hallenbau GmbH & Co. KG wird vertreten durch die persönlich haftende Gesellschafterin: Singer Hallenbau Verwaltungs GmbH, Registergericht: Amtsgericht Traunstein, HRB 10084. Diese wiederum wird vertreten durch die Geschäftsführer: Klaus Singer, Peter Singer

Umsatzsteuer-Identifikationsnummer gemäß § 27 a Umsatzsteuergesetz: DE181237712

Wir sind zur Teilnahme an einem Streitbeilegungsverfahren vor einer Verbraucherschlichtungsstelle weder verpflichtet noch bereit.

Wichtiger Hinweis:

Für alle direkten oder indirekten Verweise auf fremde Webseiten gilt:
Der Autor und Betreiber dieser Webseite betont ausdrücklich, dass er keinerlei Einfluss auf die Gestaltung und die rechtlichen Inhalte extern verlinkter Seiten hat. Deshalb distanziert er sich hiermit ausdrücklich von allen Inhalten aller verlinkten Seiten auf dieser Homepage und macht sich deren Inhalte nicht zueigen!

Alle Angebote sind freibleibend und unverbindlich.
Trotz ständiger sorgfältiger Überprüfung der vorliegenden Webseiten übernimmt der Autor und Betreiber dieser Webseiten keinerlei Gewähr für die Aktualität, Korrektheit, Vollständigkeit oder Qualität der bereitgestellten Informationen.

Haftungsansprüche gegenüber dem Autor und Betreiber, welche sich auf Schäden materieller oder ideeller Art beziehen, die durch die Nutzung oder Nichtnutzung der dargebotenen Informationen bzw. durch die Nutzung fehlerhafter und unvollständiger Informationen verursacht wurden, sind grundsätzlich ausgeschlossen, sofern seitens des Autors kein nachweislich vorsätzliches oder grob fahrlässiges Verschulden vorliegt.
Der Betreiber behält sich ausdrücklich vor, Teile der Seiten oder das gesamte Angebot ohne gesonderte Ankündigung zu verändern, zu ergänzen, zu löschen oder die Veröffentlichung zeitweise oder endgültig einzustellen.

Copyright:

Alle Bilder, Texte und Informationen auf dieser Internetseite unterliegen dem Copyright von Singer Regale & Hallenbau, beziehungsweise deren Geschäfts- und Vertragspartnern. Jede Vervielfältigung, Verbreitung oder Speicherung, sind untersagt, Zuwiderhandlungen können strafrechtlich verfolgt werden.
TELEPHONE & FAX
Telephone: +49 8064 7509783
Fax: +4980649186
These listings may also fit your interest.