screw compressor

Atlas Copco

GX5 FF
Year of construction
2004
MACHINE DATA
Machine type:

screw compressor
Manufacturer:

Atlas Copco
Model:

GX5 FF
Year of construction:

2004
Condition:

used
PRICE & LOCATION
Location:

Leipzig 3
LISTING DETAILS
Listing ID:

A7121202
Reference number:

1400151
Update:

29.09.2022
DESCRIPTION
feed pressure: 9,75 bar
liter capacity: 10,1 l
total power requirement: 5,5 kW
volume capacity: 10,1 m³/min.
Number of working hours: 36 072 h
revolutions per minute of the motor:: 3000 U/min.
protection class: CE 0038
machine weight approx.: 310 kg
Z2vrs
dimensions L x W x H: 1,2 x 0,6 x 1,0 m
We optionally offer dryers and pressure vessels.
DOCUMENTS
7121202.pdf

(PDF)
SELLER
Contact person: Herr Verkauf Verkaufsteam WMW AG
Messe-Allee 10a
04158 Leipzig, Germany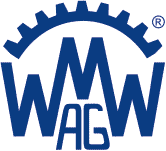 WMW AG ist ein nationales und internationales Handelsunternehmen für neue und gebrauchte Werkzeug-und Blechbearbeitungsmaschinen sowie Industrieanlagen. Auf über 25000 qm Lagerfläche mit 8000 qm Hallenkapazität finden Sie die gesamte Bandbreite von Werkzeugmaschinen, Metallbearbeitungsmaschinen, Industrieteilen und Industriezubehör.

Unser ständiges Angebot von ca. 700 Maschinen ist auf die hohe Nachfrage nach Neu-, Retrofitting- und Gebrauchtmaschinen ausgerichtet.
Zusätzlich sind wir auf die gesamte Verkaufsabwicklung kompletter Industrieanlagen spezialisiert. Mit unserem Firmensitz in der ältesten deutschen Messestadt Leipzig, einem der größten Luftfrachtkreuze in Europa und der traditionellen Nähe zu den Märkten Osteuropas besitzen wir eine ausgezeichnete logistische und strategische Anbindung. Die WMW AG ist Mitglied des Fachverbandes des Maschinen- und Werkzeuggroßhandels e.V. (FDM) und nach DIN EN ISO 9001: 2015 zertifiziert. Im Rahmen unserer einmaligen Handelskompetenz pflegen wir langjährige und vertrauensvolle Partnerschaften besonders nach Osteuropa sowie zum Mittleren und Nahen Osten.
Weitere rechtliche Angaben
Angaben gemäß $ 5 TMG
WMW AG
Messe-Allee 10a
D-04158 Leipzig

vertreten durch:
Vorstandsvorsitzender: Hamo Gregorian
Aufsichtsratsvorsitzender: Dieter Bartoschek

Kontakt:
Tel.: +49 – (0)341 – 520 46 0
Fax: +49 – (0)341 – 520 46 17

Registereintrag:
Registergericht: Amtsgericht Leipzig
Registernummer: HRB 19757
Erfüllungsort und Gerichtsstand ist Leipzig

Umsatzsteuer-ID gemäß § 27a Umsatzsteuergesetz:
Steuer-Nr: 232/100/01026
USt-Id.-Nr.: DE 230357386
TELEPHONE & FAX
Telephone: +49 341 68696100
Fax: +493415204617
These listings may also fit your interest.