CNC machining centre

Biesse

Rover 23
Year of construction
1999
MACHINE DATA
Machine type:

CNC machining centre
Manufacturer:

Biesse
Model:

Rover 23
Year of construction:

1999
Condition:

used
PRICE & LOCATION
Location:

D - Hessen
LISTING DETAILS
Listing ID:

A6317647
Reference number:

ISS20150910-461
Update:

11.08.2022
DESCRIPTION
Used machine
Condition: Ready for operation
Year of manufacture: 1999
Technical data:
Machining field:
X - axis: 2.900 mm
Y - axis: 1.300 mm
max. part thickness 140 mm (depending on the tool)
working table with 6 workpiece supports
3 vacuum cups per workpiece support
1 lifting rail per workpiece support
Work table designed for 4-field-occupation
Bzovvw2v8p
Capacity vacuum pump: 100 cbm/h
aggregate equipment:
main spindle 7 kW
tool holder ISO 30
speed 1.500 - 18.000 rpm
C - axis 360 degrees for the reception of adapter aggregates
Tool magazine:
1 tool magazine with 5 places for milling tools, at the machining support from in X - direction moving along
1 tool magazine with 3 places suitable for adapter units and milling tools, mounted laterally in the table.
drilling units:
vertical drilling unit with 5 spindles in X and
5 spindles in Y
horizontal drilling with 2+2 drilling spindles in X
1+1 drilling spindles in Y
grooving unit fixed in X
Control: Type XNC
adapter aggregates:
* Horizontal milling unit swivelling
* Lock case milling unit for door processing
safety devices:
* Safety mats in front of the machine
* Safety fence on the side, with access door on the right side
Connected load: 400 V / 50 Hz / 3 Ph.
Weight approx. 3.500 kg
location: Hochheim am Main
Availability: By arrangement

The advertisement was translated automatically. Translation errors are possible.
SELLER
Contact person: Herr Lukas Samstag
Am Silbersee 1
65239 Hochheim am Main, Germany
Last online: Yesterday
Registered since: 2008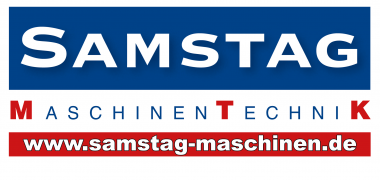 Die Firma SAMSTAG Maschinentechnik GmbH hat langjährige Erfahrung im Handel mit neuen und gebrauchten Maschinen und Anlagen für die Holz- und Kunststoffbearbeitung. Eine Auswahl an topaktuellen Ausstellungsmaschinen und attraktiven Gebrauchtmaschinen lassen das Handwerkerherz höher schlagen. Unser Service reicht von der Planung bis hin zur Lieferung, Montage und Einweisung Ihrer Maschine. Unsere angebotenen Gebrauchtmaschinen werden in der Regel vor der Auslieferung überholt oder technisch auf Funktion überprüft.

Gerne können Sie die für Sie interessante Maschine nach Ankündigung besichtigen und sich selbst ein Bild machen.

Kommen Sie vorbei! Wir freuen uns auf Sie!
Weitere rechtliche Angaben
Diese Website wird mit großer Sorgfalt ständig überarbeitet und aktualisiert. Sofern Sie dennoch Fehler bemerken oder Anregungen, Kommentare oder Rückfragen zu dieser Website haben, wenden Sie sich bitte, ggf. unter konkreter Bezugnahme auf einzelne Seiten oder Bereiche, an unseren Hauptsitz in Hochheim.
Informationen gemäß Telemediengesetz
Samstag Maschinentechnik GmbH
Am Silbersee
65239 Hochheim
Telefon: (+49) 06146 / 60860-0
Telefax: (+49) 06146 / 60860-6

Geschäftsführer: Corinna Samstag, Hans-Jörg Samstag, Lukas Samstag

Register: Amtsgericht Wiesbaden HRB 24173
Ust.ID-Nr.: DE 813 788 453
Steuer-Nr: 043 239 80546
Unsere Standorte
Hochheim - Hauptsitz
Samstag Maschinentechnik GmbH
Am Silbersee
65239 Hochheim
Telefon: (+49) 06146 / 60860 - 0
Telefax: (+49) 06146 / 60860 - 66

Filiale NRW Solingen
Samstag Maschinentechnik GmbH
Zugspitzweg 6
42699 Solingen
Telefon: (+49) 0212 / 382350 - 0
Telefax: (+49) 0212 / 382350 - 29
TELEPHONE & FAX
Telephone: +49 6146 8148744
Fax: +4961466086066
These listings may also fit your interest.