Roller

Bomag

BW 213 PDH-5
Fixed price plus VAT
€67,000
Year of construction
2018
Location
23881 Breitenfelde, Germany
MACHINE DATA
Machine type:

Roller
Manufacturer:

Bomag
Model:

BW 213 PDH-5
Machine number:

60
Year of construction:

2018
Condition:

used
Operating hours:

1,175 h
PRICE & LOCATION
Price:

€67,000
Location:

23881 Breitenfelde, Germany
LISTING DETAILS
Listing ID:

A12175277
Reference number:

20824243
Update:

07.12.2023
DESCRIPTION
Cabin ,Climate
- Padfoot bandage
Gf03pagvfn
- Working width mm
- Wide band buzzer
- Air conditioner
- radio
- 115 kW
- approx. Kgc
This offer is not binding, no guarantee for equipment details. Errors, changes and prior sale reserved!
Ref.: 60
- padfoot
- working width 2,130 mm
- deep noise warning horn
- air conditioner
- 115 kW
- approx. 13,825 Kgs
This offer is non-binding. No responsibility for equipment details, errors excepted. Subject to prior sale.
Ref.-No.: 60

The listing was translated automatically. Translation errors are possible.
SELLER
Contact person: Mr Enrico Buske
Bergkoppel 13
23881 Breitenfelde, Germany
Last online: A week ago
Registered since: 2021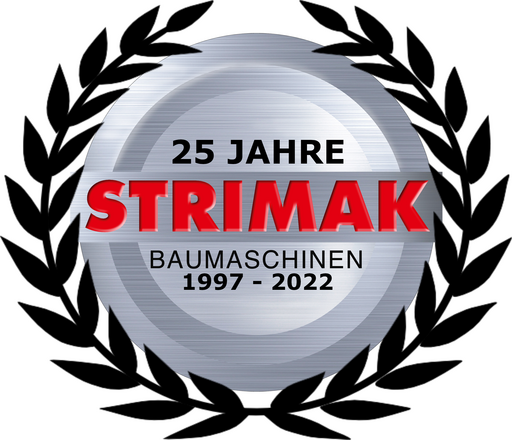 Die STRIMAK Baumaschinen & Kraftfahrzeug GmbH beschäftigt sich seit mehr als 25 Jahren mit dem An- und Verkauf, dem Ersatzteilhandel sowie der Reparatur von Baumaschinen und Kraftfahrzeugen.

Der Im- und Export sowie der Handel mit gebrauchten Baumaschinen wurde nach der Gründung im Jahr 1997 schnell zum Kerngeschäft.

Die STRIMAK Baumaschinen & Kraftfahrzeug GmbH unterstützt seine Kunden und Interessenten partnerschaftlich bei der Suche und dem Erwerb von werkstattgeprüften Baumaschinen weltweit. Alle Maschinen werden durch qualifiziertes Fachpersonal begutachtet, durchgesehen und im Bedarfsfall repariert.

Dadurch ist der Leitspruch " Grosse Marken zu fairen Preisen" jederzeit sichergestellt!
Weitere rechtliche Angaben
STRIMAK Baumaschinen & Kraftfahrzeug GmbH
Bergkoppel 13
D-23881 Breitenfelde
Telefon: +49 (0) 4542 / 822 96-0
Telefax: +49 (0) 4542 / 822 96-9

verantwortlich für diesen Webauftritt ist gemäß § 5 TMG die STRIMAK Baumaschinen & Kraftfahrzeug GmbH
Geschäftsführer: Herr Lothar Strieder
Handelsregister: Lübeck HRB 0438 (MÖ)
USt.ID.NR.: DE 189880746
These listings may also fit your interest.