second-hand machinery for sale
---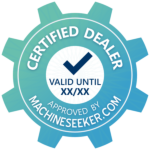 Machineseeker Trust Seal
What is the Trust Seal?
The Machineseeker Trust Seal enables buyers to quickly recognize whether they are dealing with a trustworthy seller.
What do we verify?

Check of
trade licence or commercial register extract

Verification of the dealer's
postal address

Validation of the
banking details

Verification of
accessibility to
main phone number

Credit report
may not contain negative criteria

Buyer complaints
can lead to withdrawal of the seal

What does this mean for the seller?

After successful verification, we will include the seal awarded to you in your listings on Machineseeker. In this way, you signal to any potential buyer the independently verified seriousness of your company. This creates buyer confidence and increases the likelihood of successfully selling machines. In addition, you have the option of including the Maschinensucher seal of confidence on your homepage and letterhead.