Sawing- and Drilling Plant

VERNET-BEHRINGER

HD-S EVO612 + HBP360/704GNC
Year of construction
2018
Location
Europäische Union
MACHINE DATA
Machine type:

Sawing- and Drilling Plant
Manufacturer:

VERNET-BEHRINGER
Model:

HD-S EVO612 + HBP360/704GNC
Year of construction:

2018
Condition:

used
PRICE & LOCATION
Location:

Europäische Union
LISTING DETAILS
Listing ID:

A7099668
Reference number:

1130-0302-220041
Update:

11.08.2022
DESCRIPTION
Profile width:600 mm
Profile height max.:300 mm
numbers of drill spindles:3 Stck.
bore diameter:35 mm
connected load:55 kVA

VERNET-BEHRINGER HD-S EVO 612 drilling line with Behringer HBP360/704 band saw for the processing of sectional steel.
This drilling saw line consists of a combination of a Behringer miter band saw and a Vernet Behringer HD-S EVO 3 axis drilling line including measuring system with clamp measuring carriage and an infeed and outfeed roller table for profile lengths up to 16,000 mm.

Vernet HD-S 612 3-axis drilling machine for drilling and milling of sectional steel with Kennametal carbide drills, Hartner Multiplex carbide drills and/or Nenok HSS coolant channel drills
Scribe marking for positions or inscriptions
Casi0fbfyu
Power of drilling spindle motors per axis 11 kW
4 compartment tool changer per drilling axis

Behringer HBP360/704GNC miter band saw controlled by the CNC of the drilling machine.
SELLER
Contact person: Herr Jürgen Hönsch
Wipperfürther Straße 29-31
51103 Köln, Germany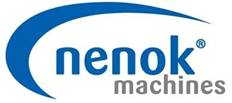 Mehr als 20 Jahre Erfahrung mit Maschinen, Service, Werkzeugen und Zubehör im Stahlbau und Metallbau
Gebrauchtmaschinenhandel, Werkzeughandel, Service, Ersatzteile, Maschinenüberholung, Maschinenverlagerung

Der Name Nenok steht für jahrzehntelange Erfahrung mit Maschinen und Anlagen, die im Stahlbau und Metallbau eingesetzt werden. In diesem Branchenumfeld sind wir ein führender Anbieter von qualitativ hochwertigen Gebrauchtmaschinen. Unser Maßstab ist die Zufriedenheit unserer Kunden. Technisches Know-how und höchste Zuverlässigkeit bilden die Grundlage für die erfolgreiche Instandhaltung von Maschinen und Anlagen. Selbstverständlich werden auch kundenspezifische Modernisierungen -sei es elektrisch, hydraulisch oder mechanisch - von unseren spezialisierten Technikern professionell und termingerecht durchgeführt.

Für die optimale Wartung aller Maschinen und Anlagen im Stahlbau und Metallbau ist ein gut sortiertes Ersatzteillager eine wichtige Voraussetzung. Dieser Vorteil kommt unseren Kunden zugute, wenn das nenok Serviceteam Maschinen und Anlagen demontiert, reinigt, überholt und nach einer Reparatur wieder in Betrieb nimmt.

Nenok bietet seinen nationalen und internationalen Kunden ein seit vielen Jahren und zahlreichen Projekten erprobtes Dienstleistungspaket. Damit sorgt Nenok für die Werterhaltung, die Wirtschaftlichkeit und vor allem die Verfügbarkeit Ihrer Maschinen und Anlagen. Durch den flexiblen Einsatz unserer Serviceteams leisten wir einen wichtigen Beitrag zur Sicherung Ihrer Produktion.
TELEPHONE & FAX
Telephone: +49 221 97137336
Fax: +4922188882626
MEMBER
This dealer is a member of the Fachverband des Maschinen- und Werkzeug-Großhandels e.V. (German association of machine and tool wholesalers) .
The association was founded in Berlin in the year 1910, as an independent representative for the interests of the industry. Member companies include technical equipment suppliers for the metal, wood and plastics processing industries.
These listings may also fit your interest.